What are breach listings, images and URLs?
---
This is kinda serious. 'Breach' listings, images and URLs are those that breach Commercial Real Estate's Online Terms and Conditions and Domain Groups Acceptable Use Policy, and are not permitted on our site.
What are 'Breach Listings'
---
Breach listings are listings that are in breach of our terms and conditions of advertising. We are notified of breach listings via feedback from users, agents, and account managers, or via internal detection systems.

When breach listings are identified, the listing will be removed and the agency will be sent an official warning. After 2 warnings, an infringement will be sent to the agency as a deterrent, and to cover administration costs.
This is because property searchers do not like to see listings that are not available, and as a result, leave our website and post negative reviews. This is harmful to agents as well as Domain.
Breach Listing Categories
---
Sold in For Sale/Leased in For Lease for more than 24 hours
Deposit Taken/Application Accepted for more than 30 days
Duplicate Listings
Commercial listings on Domain
Sold or Leased listings in For Sale/For Rent section
---
If a listing is live in the For Sale or For Lease section and communicates in any way that the listing is now sold or leased, or otherwise not available, for more than 24 hours, this is a breach of our terms and conditions of advertising.

Once a listing has been sold/leased the status should be updated to Sold, Under Offer/Contract, or Leased within 24 hours. Examples of breach listings are included below: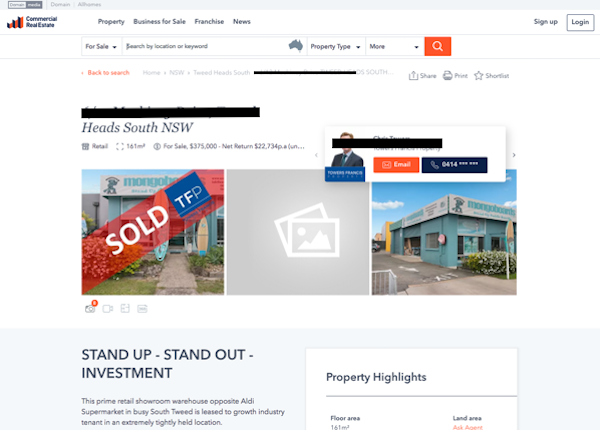 Deposit Taken/Application Accepted - More than 30 days
---
Listings are in breach of our guidelines if they say "Deposit Taken", "Application Accepted" or otherwise communicate the listing is no longer available, for more than 30 days.

After this time, listing status must be changed to Leased or Archived.
Duplicate listings
---
Domain Group's definition of a duplicate listing is when there is more than one listing with the same details under the same agency or company, and there is no way to differentiate between the listings (such as new developments), or if the same property has been listed in multiple suburbs.

Common examples of duplicate listings:
Listings uploaded once under suburb A and again under suburb B
There are multiple units in a building, all with the same images, number of bedrooms, baths and parking, and the full address is not displayed.
Listing is loaded by more than one agent
As per our terms and conditions, a listing may only be uploaded once, even if it fits multiple categories, or is claimed to be "on the border" of 2 adjoining suburbs.

A listing must be loaded once and must be loaded under the correct suburb according to the property contract and council records. A property must not be loaded as one suburb and then again under a different suburb. This is a breach of terms and conditions, and considered misleading. Domain Group does not accept listings which are "on the border" - the property is either in suburb A or suburb B.

If there are multiple listings within a development, there must be some differentiation between the listings, ie unit number, or property type.
When are Duplicate listings permitted?
---
Occasionally, a property is authorised and marketed as an 'open listing' or there is some other kind of arrangement between the vendor and multiple agents.

This means that more than one agent is authorised to market the listing, and therefore the listings can be uploaded once by agent A and once by agent B, etc.

This is not permitted if both agents are from the same agency, or the agencies are somehow related by franchise, head office/company or otherwise.

Duplicate listings will be managed in accordance with our breach listings guidelines.
Commercial listings on Domain
---
Domain.com.au is strictly for residential listings only. A commercial property may only be advertised on Domain if there is a residential component to the property. Eg: A shop that also has a bedroom.
Breach Images and Video
---
It's important that your listings appear as great as possible on Commercial Real Estate, and that our users enjoy searching on our apps and website no matter which device they are using.

For this reason, images used must be in accordance with the following:
Images
Images must be of the actual property
Images may not include any text or corporate message
Images may not display a collage or combination of photos or other images within one frame.
Images may not include a logo
Images may not include a border
Surrounding area or neighbourhood/lifestyle images may not be used as the main image, or the first 3 images, and must depict the actual location.
Documents such as contracts (or components of the contract), inclusions, etc may not be uploaded as an image.
Video
Video must not advertise the 'lifestyle', yourself or your agency
Video and Virtual tour must not link to external websites
Video may include a transparent watermark of your agency logo in one corner of the Video with dimensions no greater than 10% of the total image size that does not obstruct the Video content. The sole purpose of video is to advertise the property for sale or lease.
Breach Logo/Watermark
---
A watermark may be included with images according to these specifications.
Breaches of the logo/watermark guidelines will receive a 1st and 2nd warning, and infringement notices thereafter.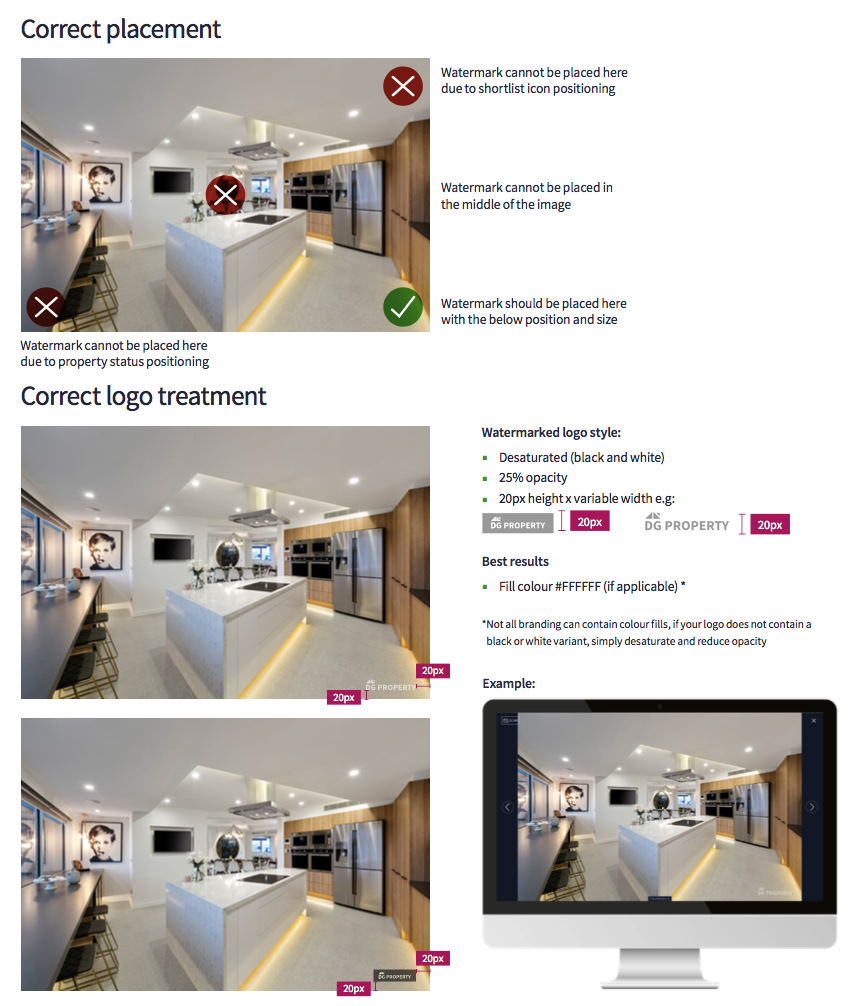 Breach URL
---
Under no circumstance may a listings content, or agency/agents profile content include any links/URLs that redirect to external websites.

There are a number of dedicated options and fields available for linking to agency/agent website and social media.

Listings that include breach URLs will be removed immediately, and the agency will receive an infringement. There is no 1st or 2nd warning for this breach.
Underquoting: Offers over, offers above
---
Agents must not advertise listings that provide any price estimate less than what you have reasonably estimated that a property is worth (as recorded in the agency agreement with the seller).
Listings must not use any statements such as "offers above" or "offers over" an amount, or "plus" a particular price (for example, $500,000+), which could underquote or obscure a property's estimated value.
Where in the terms and conditions does it say I can't load these listings or images?
---
The following extracts are from our terms and conditions, and acceptable use policy relating to this article.

Commercial Real Estate Terms and Conditions:
...5) you may only advertise properties that your office is selling as agent/business broker/franchise group and that are currently available for sale or lease;...

...7) listings may only be advertised once on the Site. Duplicate listings may incur an administration fee;...

...11) except as permitted by us, you will not include any logos or other forms of branding in your property listings;...

...12) you will archive or remove listings from the Site within 24 hours of an unconditional exchange of contracts or lease agreement being signed for the relevant property. Failure to remove such listings within 24 hours may incur an administration fee for each listing which is displayed, but is not available for sale or lease;...

"...We reserve the right (but have no obligation) to review, modify, reformat, reject or remove (or direct you to modify or remove) any material that you upload, post, transmit or otherwise make available (or attempt to upload, post, transmit or otherwise make available) via the Site...."